Subsidized Child Care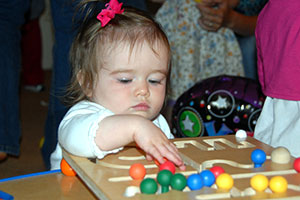 For many low-income working families, access to subsidized child care is the key to staying afloat financially. Federal, state, and local child care funds are allocated each year to subsidize child care costs for parents who need this help.
The subsidy programs are governed by specific rules, regulations, and guidelines, which change depending on the funding source, and are layered in complexity. Parents often find the process of finding and keeping subsidized child care complicated and scary, and many unnecessarily lose their subsidy  because they don't know the rules.
The Child Care Law Center helps interpret subsidy program rules and practices so that working, low-income families can keep the subsidized child care to which they are entitled.
---
Are you a parent who has received a "Notice of Action" regarding your child care?
Timelines for appeal are short! If you have received a Notice of Action ("NOA") or have been verbally denied child care you believe you are eligible for, please contact us as soon as possible and submit your issue through our online Information and Referral service.
You can also watch our video, "Three Things Parents Should Know about a Notice of Action" for more information and resources.
Enforcing the Rights of Parents Receiving Subsidized Child Care
We help parents – and advocates representing parents – who are at risk of losing their subsidized child care. We offer information and technical assistance so that low-income and limited English proficiency parents do not unjustly lose child care.
Specifically, we help parents navigate:
Application and re-certification requirements
Terminations
Notices of actions
Hearings and appeals policies
We help write new state guidelines and policies so that low-income parents can keep subsidized child care, which is their lifeline to working to support their families.
We conduct "Know Your Rights" workshops for grassroots groups, and direct parents to legal assistance when they need it.
2019 Legal Guide to Child Care Subsidies in California
Our 2019 Legal Guide to Child Care Subsidies in California is a comprehensive explanation of California law about as it relates to:
Applying for a subsidy
Payments of subsidies
Eligibility for a subsidy
Administration of subsidy programs by local community based organizations and contractors
Hearings and appeals for child care programs administered by the California Department of Education and CalWORKs child care Stages 1, 2, and 3.
Guide to Subsidized Child Care for Children in the Child Welfare System in California
Access to subsidized child care is essential to maintaining safe and stable living arrangements for children in the child welfare system. We can provide an explanation of the primary California child care subsidy programs with special considerations for foster parents, legal guardians, and other caregivers of children in the child welfare system. We work with advocates, social workers, and attorneys to help keep these children healthy, safe, and stable. Contact us here.
Impact Litigation
The Child Care Law Center, in partnership with legal aid attorneys, undertakes impact litigation when necessary to protect the rights of working low-income families to subsidized child care. A case filed in 2010, Parent Voices Oakland v. O'Connell, helped restore child care funding for the families of more than fifty thousand children across California after Governor Schwarzenegger cut it from the budget.
Resources