SB 321 A Strong Start for CalWORKs Families – Resources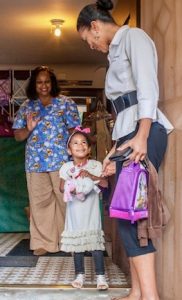 What does SB 321 do?
SB 321 allows families entering CalWORKs to get reliable, stable child care, so they can focus on improving their options, assured that their children are happy and safe.
Why do California families need SB 321?
Currently, CalWORKs Stage One child care authorizations are short-term and full of red tape. This obstructs a parent's ability to go to work or job training, attend domestic violence counseling or court proceedings, or seek mental health or substance abuse counseling.
Furthermore, when parents cannot participate in required activities – because they don't have child care – they are penalized. Their benefit payments are cut and it becomes even harder for them to get ahead and stay ahead.
Why we must pass SB 321?
California created the welfare-to-work program, known as CalWORKs, to give everyone the chance for a prosperous future. But families with young children are being denied the opportunity to fully benefit from the program because they do not have the child care that was promised to them.
SB 321 gives families stable, reliable child care so they have more options to improve their future and their children have a strong start.
Author: Senator Holly Mitchell (D-30)
Coauthors: Senator Anna Caballero, Senator Melissa Hurtado, Assembly Member Cecilia Aguiar-Curry, Assembly Member Rob Bonta, and Assembly Member Buffy Wicks.
Cosponsors: Child Care Law Center, Parent Voices, SEIU California, and United Domestic Workers of America.
Need-to-Know Information
– The Basics About SB 321 A Strong Start for CalWORKs Families
       –  Fact Sheet: SB 321 (Mitchell)
– Parents' Experiences 
*Families Falling Through the Cracks
How YOU Can Pass the Bill:
– Call, write letters, and/or meet with legislators
– Attend Committee hearings – TBA
– Get active on Twitter and Facebook!
– Do you have a personal story about trying to obtain child care through CalWORKs? Email Patti Prunhuber
Questions:
– Email Senior Policy Attorney Patti Prunhuber