Budget Fix Saves Child Care for 280,000 Kids
Child Care Law Center Legislation Helps Keep Affordable Child Care for 280,000 Kids
New Funding Provisions Fix Unintended Penalty Caused by CA's Minimum Wage Increase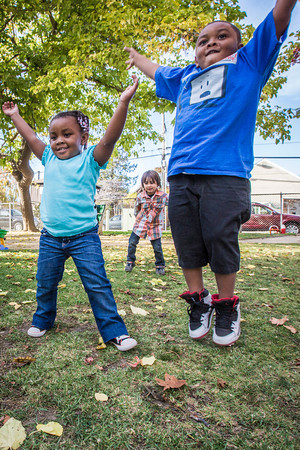 Sacramento, CA – When California's new minimum wage went into effect in January of this year, thousands of working families became ineligible for affordable child care because of outdated income guidelines, which have been frozen for over a decade. A legislative fix penned by Child Care Law Center attorneys and advocated for by Parent Voices has been included in the State budget that Governor Jerry Brown signed today; it will allow the parents of 280,000 kids in California to accept raises and take better job opportunities without losing the affordable child care they need to provide for their families.
"Child Care Law Center helped me keep my child care, and then fought to raise the income levels for affordable child care for all families," said Francis Brown, a Child Care Law Center client, "I was feeling defeated, like every step I took to earn a raise or better myself meant I would lose my child care. Now I can work hard and get a small raise or promotion knowing that my children are happy and safe."
California's new minimum wage had unintentionally caused many families to become ineligible for child care. Furthermore, the state's child care reimbursement rates were not updated to help meet the new minimum wage requirements for child care workers. The budget provides:
$25 million to update income guidelines and adopt twelve-month eligibility;
Funding for 2,959 full day state preschool slots administered by Local Education Agencies.  If they don't spend the money, it can be used by non-LEAs for part-time preschool;
Restore the 5% "paused" increase to this year's Standard Reimbursement Rate paid to contracted child care centers and preschools, and provide an additional 6.16% increase for this year;
$42.2 million to increase the Regional Market Rate Reimbursement to child care providers serving low-income families

Annualizes last year's increase, and updates the rate to the 2016 Regional Market Rate Survey, effective January 1, 2018;

$15 million to fund emergency child care for foster children, beginning Jan 1, 2018 and $31 million ongoing to establish a voluntary county program that would provide emergency vouchers and $5 Million to the R&R's for navigation services for families;
Title 22 regulations and staffing ratios still apply to LEA-administered preschools. Establish a stakeholder group, led by the LAO, to examine health and safety regulatory requirements under Title 22, and to report back to the Legislature by March 2018.
"Fixing the guidelines was our top priority, because it fulfills the legislators' vision of a more prosperous future for everyone," said Kim Kruckel, Executive Director of the Child Care Law Center. "Thanks to this new budget, California is a true trailblazer in America when it comes to affordable, quality child care for lower-income families. We thank Governor Brown, Assembly Speaker Rendon and Senate President Pro Tempore Kevin de León, for putting California's children and families first."
Contact: Kim Kruckel, Executive Director of the Child Care Law Center, 510-717-6287